Bernie Davis is Tidal's Vice President of Business Development, where he is responsible for developing strategic media, agency and brand partnerships. He was formerly Vice President of Business Development at Liquor.com, and Director of Business Development at Condé Nast. Bernie has over 15 years of digital media experience.
---
Entertainment Weekly recently joined the pool of publishers-turned-platforms with the launch of an influencer-driven content site, appropriately named The Community.
"The expansion here hopefully allows us to tap into new audiences who are increasingly having conversations in fragmented locations," said Liz White, general manager of EW.com and People.com (via Digiday).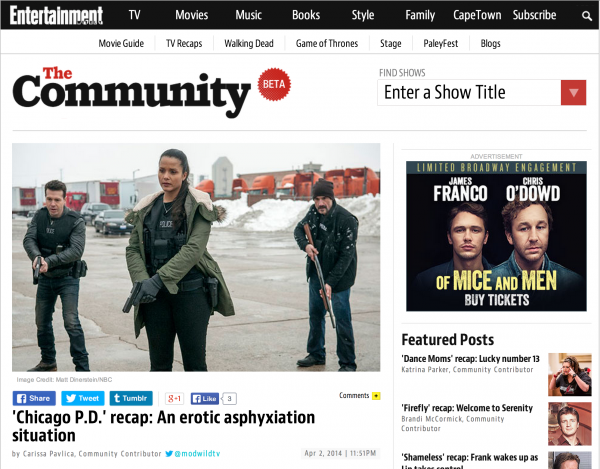 The benefits of these community-based platforms in publishing is a no-brainer for some: passionate voices covering stories that engage audiences at a low cost. Most commonly cited examples are the Huffington Post and Forbes. Less discussed is the Bleacher Report paradigm, whereby community contributors can work their way up to being paid. AllRecipes, launched in 1997, is the top-trafficked recipe site on the web, and is predominantly user-submitted. It is now also a thriving print magazine.
Yet the move by EW instigated an outcry from writers defending paid journalism. "The manner in which the magazine is attempting to build out its brand is the absolute worst-case scenario — bad for authors and for readers," writes Daniel D'Addario for Salon, in reference to the new community offering. "The industry giant's latest venture is a shameless, mercenary attempt to exploit inexperienced writers," reads an article caption for The Week.
This grievance is nothing new—many in the writing community rightly fear the shift toward uncompensated work and the potential for deteriorating quality of content on web publications. But the question remains: what is it about EW's influencer-sourced content, specifically, that touched this nerve so fervently?
Let's get down to the basics. The web has always been a place for conversation, and mainstream publishers have consistently tried to open their platforms up to users with forums, discussion boards, etc. Rarely did those platforms experience much success in reaching anyone beyond the hardcore fans of their sites. This is because the most direct and effective way publishers reach their users is through article-based content.
So why is allowing readers and enthusiasts a voice in the form of actual stories troubling for those defending journalism?
Shouldn't EW be the place where people sound off on last night's TV feast (or tonight's as the case may be)? Like-minded publishers are able to offer the promise of exposure as well as the potential to get paid— and for some, it's an efficient way to get noticed.
Also, we should not assume each and every one of these individuals necessarily want to be a full time journalist. They may have other pursuits whereby having their name aligned with EW supports, just as many Forbes contributors are independent professionals representing a variety of fields. Some of them may actually make money blogging independently and benefit from more exposure!
To Salon's question: "If opening the gates to let your readers in as writers is the solution, why were there ever magazines in the first place?" The answer to this is simple: because great reporting and writing is still appreciated, respected and wanted.
Adding an open forum for discussion does not diminish the role of quality editorial. But it does celebrate the democratization of content and one's ability to share and develop opinions in a public space, even if expressed as listicles fantasizing about being a member of a TV family.
It will be interesting is to see the evolution of EW's community offering. Creating the means for those influencers to remain involved, further their participation, and see "a path" will be key to sustainable growth and success. It appears Time Inc. is poised to address this as Dory Devlin, former Yahoo Shine Managing Editor, is overseeing The Community.
How this trend will evolve remains to be seen. Will community pages replace great journalistic work? I doubt it. If anything, it may drive journalism to a new level—where paid staff writers can expand on the topics already being discussed by related communities. The publishing industry is in a time of reshuffling and it will without a doubt be interesting to see where all the cards fall.
*Entertainment Weekly is not a Tidal client.