When HarperCollins wanted a fresh face for their Avon Romance blog, they came to Tidal. Now AvonRomance.com looks more beautiful than ever, with a growing community of contributors who love everything about reading and romance. We've already gotten some great press for this new site from Publisher's Weekly, USA Today, and MediaBistro.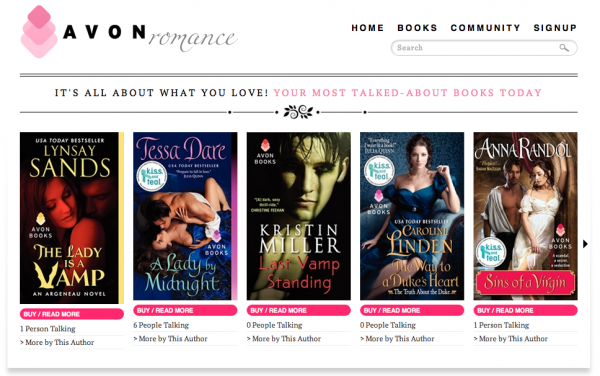 "We're thrilled to be the first book publisher on the Tidal platform," said HarperCollins Chief Marketing Officer Angela Tribelli, "and are particularly excited to light up an exciting new channel where Avon Romance readers can do what they do best – share their love of Avon authors and books."
Liate Stehlik, Senior Vice President and Publisher of William Morrow and Avon Books, remarked, "Books become bestselling international blockbusters based primarily upon word of mouth; and online/digital sharing is an integral part of that phenomenon."
Bestselling author Wendy Corsi Staub is one of the first Avon Authors in the community, writing through her blog, the
Wendy Corsi Staub Community
!
"I appreciate being given the key to the city… so to speak!" Wendy said, "Avon is empowering me to reach their large-scale audience with my messages, which in turn helps me grow my reader base.